Puppy Training from day 1!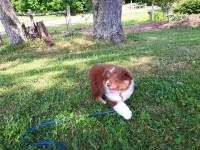 Training should be fun for you and the puppy!
Puppies love attention! We work with our puppies from day 1 and by the time they leave they usually walk well on a leash. We put velcro collars on around 2 weeks of age and by 4 weeks we hang a light weight leash on them and let them play with us under supervision.  This allows them to get used to the feel of the leash without the restriction.  Every puppy has different potential, but they are usually walking well on a leash by 6 weeks old.