Puppy Training from day 3!
Bio Sensor or Super Puppy Training
Bio Sensor Training 
Five benefits have been observed in puppies that were exposed to the Bio Sensor stimulation exercises. The benefits noted were:
1.      Improved cardio vascular performance (heart rate)
2.      Stronger heart beats
3.      Stronger adrenal glands
4.      More tolerance to stress
5.      Greater resistance to disease

In tests of learning, stimulated pups were found to be more active and were more exploratory than their non- stimulated littermates over which they were dominant in competitive situations.

Secondary effects were also noted regarding test performance. In simple problem solving tests using detours in a maze, the non-stimulated pups became agitated,whined a great deal, and made many errors. Their stimulated littermates were less agitated and whiney by the same test conditions and when comparisons were made, the stimulated littermates were calmer in the new testing environment, made fewer errors and gave only an occasional whine of distress when stressed.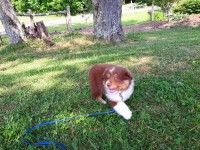 Training should be fun for you and the puppy!
Puppies love attention! We work with our puppies from day 1 and by the time they leave they usually walk well on a leash. We put velcro collars on around 2 weeks of age and by 4 weeks we hang a light weight leash on them and let them play with us under supervision.  This allows them to get used to the feel of the leash without the restriction.  Every puppy has different potential, but they are usually walking well on a leash by 6 weeks old.